Make a unique device of your kind!
By combining the benefits of these separate models, you get a unique device that goes beyond a single one. This Side by Side, created by combining the KS3755IXF refrigerator with the VF3715IXF vertical freezer is a model that offers an incredible capacity - enjoy storing food without compromise, because now both the refrigerator and the freezer are equally spacious!
The Zero Clearance function of this combination allows the door to open at a 90° angle, while the width of the device remains the same as when the door is closed, so they don't take up any additional space. The drawers open smoothly even when the refrigerator is located in the corner, which provides additional space savings of about 3cm wide.
One step further for a personal experience of freshness
Both models have reversible doors, so you can choose the exact side of the refrigerator and the freezer. If you want to change the opening direction, handle position, or the way these devices connect, both models are adjustable and can easily be reconnected to a single Side by side.
VOX Harmony Line
In addition to numerous benefits such as LED display, LED interior lights, and different operating modes, this combination of two separate models also brings a touch of elegance to your kitchen - thanks to VOX Harmony Line sophisticated interior design, with straight lines and smooth surfaces for more style and extra comfort.
How to connect these devices?
Fast and easy! Although both models have a separate power source, in just a few steps, which are described in the connecting guide, you will get a unique Side by Side refrigerator. Without any advanced technical skills or the need of calling a service technician, you can easily create your perfect connection of freshness!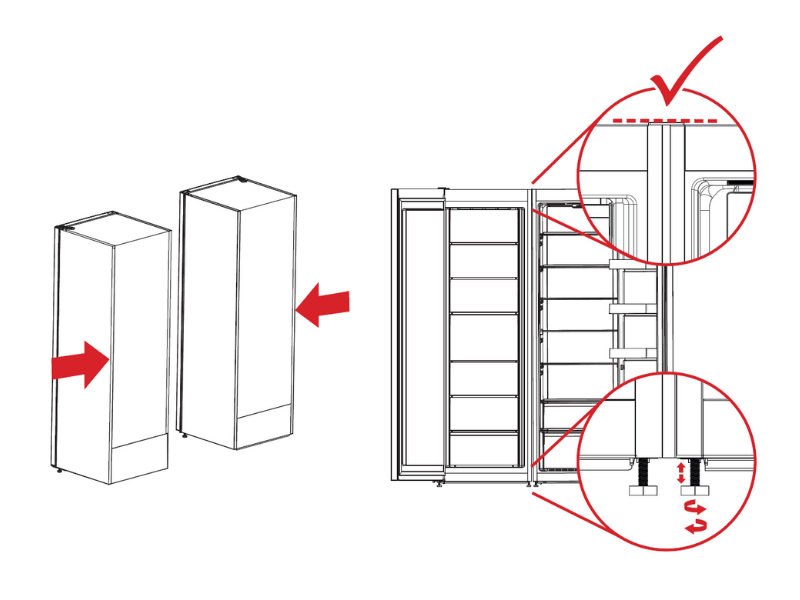 COMPATIBLE MODELS IN WHITE & INOX